The fine art of distilling technology - since 1869
CARL

Automation & Digitalization

Intensive research is the basis of our success. The cooperation with well-known research institutes and universities is – in addition to our will to continuously optimize our machines in-house and externally together with our customers – a central point of our development work. This leads to state-of-the-art solutions in many areas, including:
CADi Computer Aided Distilling – fully automatic distilling process
DPC Distilling Process Control: automatisation & digitalization of your plant
CIP (Clean In Place) fully automatic cleaning process of the copper plates – for reduction of methanol & hydric acid in the distillate
Optimisation of the dephlegmator-control and energy efficiency
Automatic fraction control
Research about flavours' behaviours

SOFTWARE

CATALYSTS

MEASURING INSTRUMENTS

CLEANING

AROMA
FUNCTION
& Support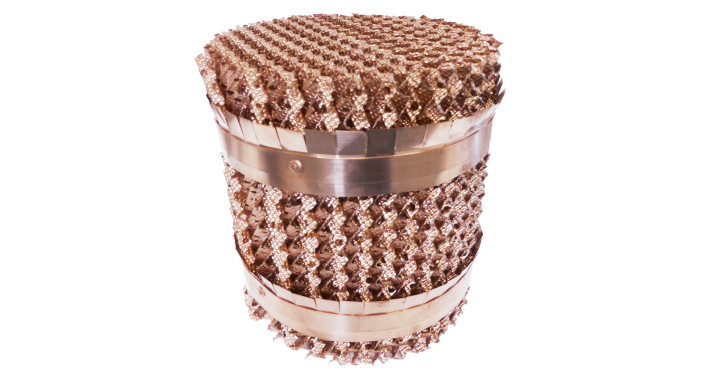 High performance-copper absorber
DPC 510 as 15″ touch display
The CARL distillery control DPC 510 (Distilling Process Control) is used for fully automatic control, operation & optimization of the distilling process. The regulation of heating & cooling, measurement of various parameters, switch-off and switch-on functions, temperature & trend curves. Safety aspects such as cooling water overtemperature with an emergency shutdown is possible. The automatic fractionation system allows a reproducible separation of pre-carriage, middle and post-carriage, which is easy to store in the recipe management. The DPC 510 is extremely flexible and easy to use via the 20" touchscreen with optional online maintenance.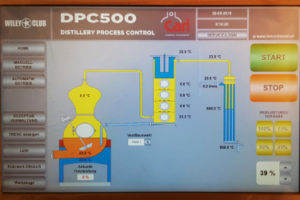 DPC 200 as 7″ touch display
The CARL DPC 200/210 TOUCH is the small sister of the DPC 510 and shows the latest distilling & safety technology with its integrated cooling water temperature control panel. Usable for all sizes and heatings. Optional with remote access control & maintenance and/or automatic flow separation. Also, the DPC 200/210 TOUCH can be retrofitted on older CARL models.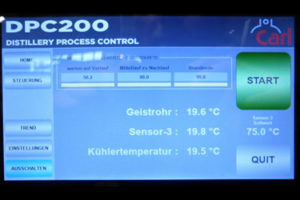 CADi fully automatic distilling
Our Computer Aided Distilling program allows you to produce fully automatically in combination with an intelligent-interactive control of all the distilling processes. By reducing the time of the manual/visual control time saving is the greatest advantage of the CADi. Optional a remote access control is possible. For further questions please ask our sales staff …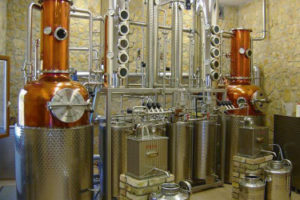 DVE – push button monitoring & control cabinet
Our modern DVE electronic monitoring & control panel – built in a stainlees steel case – is simple to use with push button control. Highest ergonomics with best clarity supports you as the machine operator in the whole distilling process – with digital displays, acoustic signals and other safety features. The DVE is engineered for wall installations.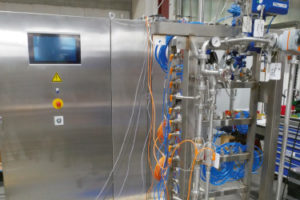 ESM – mashing in semi automatic program with touch display
The ESM mashing in semi-automatic program is a high-end software for the grain mashing & fermentation process. By using the 9" touch display the ESM gives you a simple to use and logical operation, also allowing you the right mixing of the formula/recipe and easy to use process control. Optional with online remote control.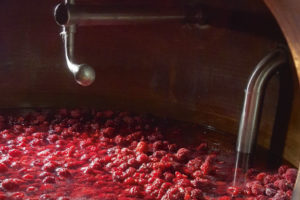 CARL DPC 50 ALCOHOL calculating program with 9" touch display
CARL's DPC 50 (Distilling Process Calculator) fully automatic alcohol calculating program calculates the right amount of water which has to be mixed into the spirits to get the right volume. Also the resulting tax which has to be paid is being calculated. Simple controllable by the modern 9" touch display.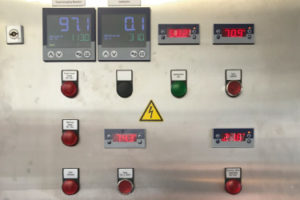 R & D: co-operation with technical universities & science institutes
For many decades CARL is working together with technical universities and science institutes in Germany, Austria, Switzerland, Italy, Scandinavia and the USA. Together with them CARL develops the most avant-garde analyzation & distilling process technologies for more energy efficiency, fully automatic cleaning systems, optimization of the heat exchange, temperature & depflegmator control … and many more things …