The fine art of distilling technology - since 1869
CARL

Commercial & Artisan Distilleries

With CARL closure distilleries, you have unlimited access to all kinds of distillates (or spirits). Whether fruit, grain brandy/grain, whiskey, rum or brandy: everything is possible. Thanks to a locked three-way tap, gin & spirit production can be done in a few simple steps under customs supervision. All CARL systems are characterized by the following properties:

MODULAR DESIGN: Our commercial & lockup distilleries/stills are compatible with all CARL distillery components. In addition to the DPC 500 automation, the CARL professional automation "CADi" with integrated flow and alcohol measurement is also available.

CUSTOM MADE DESIGN: Cylindrical & cognac helmets, boil-ball or turnip helmets, with or without lid or dephlegmator cooling or even as a special shape – with a column built directly or adjacent: distillation columns with a diameter that is precisely tailored to the bubble volume and alcohol content. An optimized floor design for each brand category as e.g. a perforated aroma sieve floor, bell floor or the newly developed tunnel floor … there are so many possibilities. CARL makes it possible. Talk to us about your tailor-made solution.

SAFETY, FIRE & EXPLOSION PROTECTION: CARL's systems are designed according to the latest safety standards. After receiving an EX-SCHUTZ zone classification, the system is equipped with units, sensors and motors according to the required country-specific standard, ATEX or IECEx or HazLoc.
Plants
from 500 to 2,500 l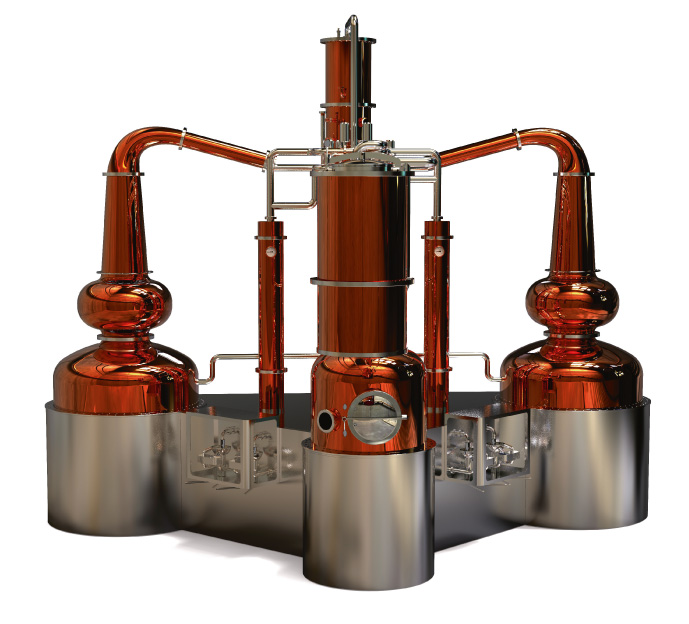 500 l respectively 1,000 l gin plant